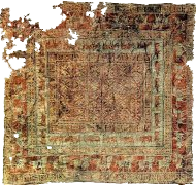 In 1949, the oldest known hand-knotted Oriental Rug was excavated from the Altai Mountains of Central Asia near Pazryk. It was found within a semi-frozen hidden Scythin burial mound. This rug dates back to the 5th century B.C. and was named "The Pazryk Carpet". To this day, the Pazryk Carpet resides in the Hermitage Museum in the heart of St. Petersburg, Russia. This carpet is very sophisticated with geometric, floral and various pictorial designs. This legendary jewel is an excellent testimony to the skill and durability of the weaver's art. Few other rugs over time are known to have survived more than 500 years.
Many of these much older Oriental Carpets are displayed in museums around the world. However, it is not that uncommon to find rugs that are over 100 years old that are still in good usable condition. Some of these older rugs, even today, are being walked upon by the great-great grandchildren of the rug's original owners.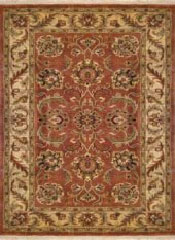 All throughout the Middle East and Central Asia, the art of weaving oriental rugs and oriental carpets has been revered and practiced since ancient times. Many cultural historians think these rugs, in addition to having beauty and practicality, also reflected very practical concerns of day to day life. One belief is that hand knotting carpets with a pile had began among the nomadic peoples as a means of imitating the texture and warmth of animal pelts. Regardless of the factors that may have contributed to their initial development, the art of rug making took on a key role in the aesthetic and historic identity of the entire regions they came from.